Dyslexie: A Typeface for Good
Type design is in an interesting position in its history. I say this as if I know a whole lot about it. I really do not. But I do know that it has been around for a long time. Well, maybe not really when you consider cave paintings and start splitting hairs with hieroglyphics and all that. 
But a few months ago I received a few specimen books from Emigre, the well known type-foundry hailing in my home state on the west coast. Here's a look at one specimen book: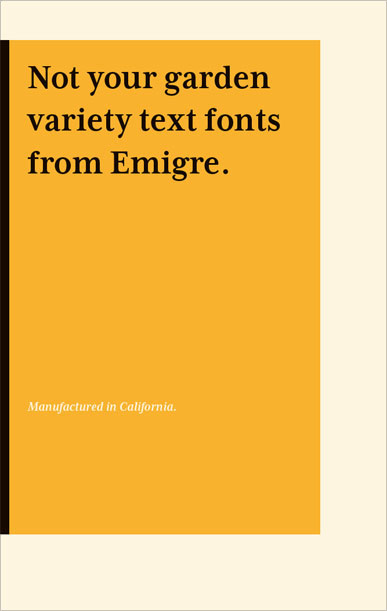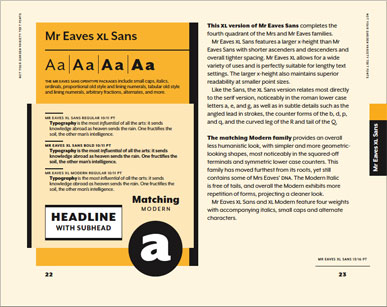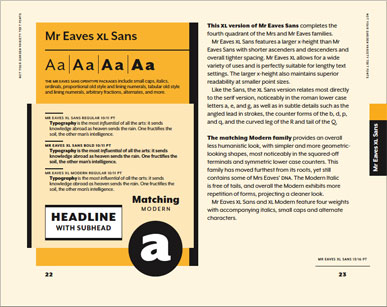 I show this specimen because it provides a really clear example on where type design may be in its own evolution. In this specimen devoted to unorthodox text typefaces, Emigre features Malaga, designed Xavier Dupre. I also really love this typeface with all its quirks. Makes a lovely texture when set in blocks as in this specimen: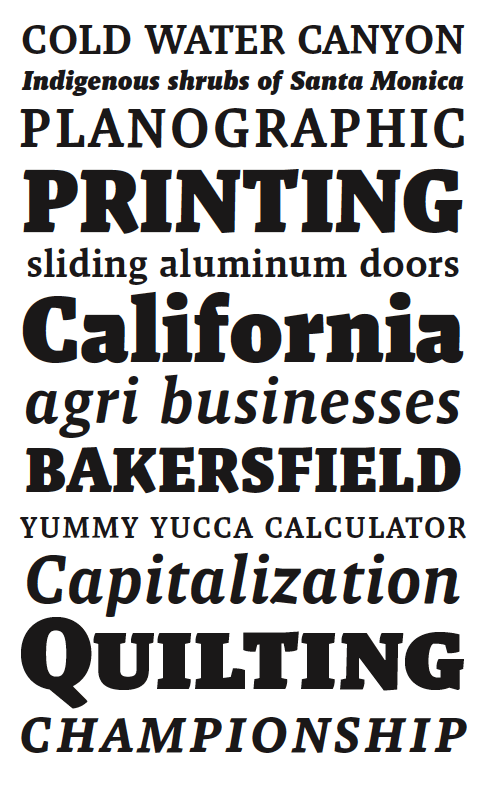 Accompanying the specimens, Dupre offers a small description of the concept and design, explaining type design as the dichotomy of functionality/readability and artistic expression. Malaga is the latter, since Dupre argues that most concerns for readability and legibility have been hammered out. More so now that humanity is on the verge of viewing screens with better resolution than reality. 
I'm only showing Malaga because it proves a point that (and of course this is open to discussion) type design is at a point when it has wiggle room for the type designer as artist. With the burdens of solving the problems of easy reading out of the way, typefaces can now live with the quirkiness and absurdities that echo their creators. I am a fan of this movement. Quirks are wonderful. Absurdity is beautiful. (For instance I'm hopelessly in love with Malaga's wonderfully flat-headed "a"). 
However, against this tide of "quirky for quirky's" I happened on a typeface this utilizing unconventional stylistic choices in order to produce some worthwhile goals. The typeface mentioned is this one, made aware to me by a fellow intern at VSA. Dyslexie: A typographic approach to dyslexia. With all of the un-classical distortions of strokes and proportions I don't doubt people abhorring this typeface in the name of classicism and all that is "good typography." But I'm sorry, this is "good typography" this typeface essentially has a heart of gold. No offense Garamond, but I don't see you helping the blind to read or anything. 
Dyslexie uses the distortions to create more differences between the typically rigid and interconnected system that composes basically all letterforms. This contrast in the system makes it more difficult for letterforms to be swapped or inverted as dyslexic readers are apt to do.
In all honesty, I love this typeface because it embodies design, which I see as practical problem-solving through innovation. Forget aesthetics for just a minute. It's bold. It's new and it has all of the best intentions as a simple but clever solution. What was the problem (words and letterforms) has now become the solution.
Here's a video showcasing dyslexie and the concept behind it: http://www.youtube.com/watch?v=VLtYFcHx7ec
thebackmatter likes this
swissserif posted this